Guest Post by Tucker Wannamaker of The Springs Real Estate Network
Here are some great real estate apps (in no particular order) for you tech savvy agents out there and your new Android phone.  Shoot out some comments/questions at the end and let us know what you think!  All of these apps can help the life of a mobile Realtor.
I have included a QR code for each app that if you scan on your screen will take you directly there!

Not sure what these are? Go to http://2dscan.com on your Android phone to get a qr code scaning app!
Suburb Scout allows realtors and home buyers to search for possible nuisances in the area of a potential home purchase. Nuisances include sewage plants, airports, nuclear plants, landfills and prisons. This is a great tool for locating everything that might affect the resale value of a home.
2) Smarter Agent
The most comprehensive app of its kind on the market, the Dictionary of Real Estate Terms provides a convenient and user-friendly reference tool that will be as invaluable to real estate professionals as it is for current and prospective home buyers.
Google Voice went public 3 months ago and since many agents have been getting signed up and using Google as their main business number.  If you want to learn more how to get your Google voice number, here are the Google Voice tutorial videos. Place calls and send text messages showing your Google number directly from this native app on your Android phone. Listen to voicemail and read transcripts. NEW: Two homescreen widgets for quick access to GV features.
One of the best GTD(Getting Things Done) task management apps available. It also directly integrates into Gmail and Google Calendar. Take your tasks anywhere with this feature-packed app; never forget the milk (or anything else) again. Add and complete tasks on the go, organize upcoming tasks, get alerted to nearby task locations, and sync it all seamlessly online. Check out Remember the Milk to find out more!
5) iHandy Carpenter
Get the prettiest and most handy carpenter toolkit in the world right on your Android!
5 professional tools in this toolkit:
– Spirit Level
– Surface Level
– Plumb Bob
– Steel Ruler
– Steel Protractor
Did you get lost? Well, get the latest Google Maps and don't get lost anymore. In Google Maps: navigation (Beta), walking navigation (Beta), filter search results by distance or ratings, search by voice, my location, business listings, directions, traffic, layers, street view and latitude.
Here is a (slightly cheesy) video from Google explaining the new Navigation feature for Android powered phones.
7) Where
Need to know what's around you after you take that buyer out to see some properties? WHERE helps you find and discover the places and people around you. Local restaurants, movies, weather, news, coupons and offers, cheap gas, friends and more. Read real-time reviews from other users and post your own.
If you're out and about with your client and need to know what's for sale, this is the app for you. This app allows you to see Zestimate home values, local real estate including homes for sale, rentals, and more. Use voice search, plus GPS, to search for homes as you talk, walk or drive. Filter real estate by home type, price, beds, and more. Save searches and favorite homes. On top of that, full-screen color photos!
Check out this quick overview video on this app.
(Sorry, no screen shots)  A comprehensive app of Real Estate Terms for when you or your client has no idea what that other agent said! It provides a convenient and user-friendly reference tool that will be as invaluable to real estate professionals as it is for current and prospective home buyers.
Mortgage calculator with graphs & charts. Calculate mortgage payments given principal, interest & term. Reverse calculate for any one given the other three. Pay off mortgage early with bi-weekly or extra payments. Supports interest-only & Canadian mortgages.
After seeing 30 houses with your buyer client, do you ever struggle to remember which ones they actually liked the most? Use this great app along with your free Evernote account to keep track of buyer tours, as well as anything else that you may need help remembering. As Evernote says, "Remember Everything." Check out this Evernote overview video for more info.
12) Dropbox
Get Dropbox and then add the Dropbox Android app and voila… your files between your computers and your mobile device are connected. Now you can browse the files in your Dropbox folder from anywhere! Share links to files with your clients, save photos and video from your camera to your computers, and open files using your favorite Android apps.
13) Safe Neighborhood
This is definitely one of the more controversial apps; however, many of your clients have these concerns. Get Safe Neighborhood and see if registered sex offenders are living near you, your friends, or any area that you want to check. Search by your address or current location to see if any sex offenders are registered in the area. View on a map and see their personal info + photos.
This is the go-to app for real estate rental searching. If you're wanting to know what the rents are going for in an area or just needed to help a client find a rental, give this app a go!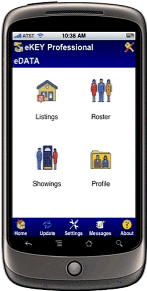 Tired of carrying an extra device around to get into listings? This will be a great app for you because you'll be able to get into those listings now without another device! Not sure when this one will be out, but you can sign up to receive notifications!
If you would like to keep up with Tucker visit his Facebook Page now and hit like!  This is one of the most thorough reviews of Android apps for Realtors on the web.